Gilbertson, Marvin David
April 3, 1938 – November 1, 2020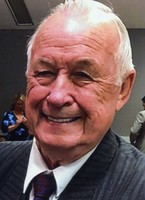 Marvin was born in Saskatoon, Saskatchewan on April 3rd, 1938 to Arnold & Isabell Gilbertson. Marvin was the first born and has two brothers younger than him. Marvin took his first schooling at Peveril School and then finished his schooling in Vanscoy, Saskatchewan. On October 12th, 1957 Marvin married Pearl Weber in Scarborough, Ontario. They had their first born, a daughter, Merna Jean in Scarborough and shortly thereafter moved back to their roots, Saskatoon, Saskatchewan. In 1961, their second child was born, a daughter, Gwen Ellen. Then in 1964, their third child was born, a son, Gerald David.
While settling in Saskatoon Marvin Joined the Saskatoon City Police Force. Marvin was there from August 1st, 1960 to September 30th, 1971. In November 1971 Marvin and Pearl bought their first hotel in Meath Park, Saskatchewan. Many good times were had and lifelong friends were made. In 1974 Marvin and Pearl and family moved to Kindersley, Saskatchewan and they bought the Seymour Hotel which Marvin changed to the Prairie Trail Hotel or as the locals called it "the PT". Marvin became very active in the Elks club of Canada. He became the Exalted Ruler of Elks for Kindersley. While living in Kindersley Marvin dabbled in many business ventures, real estate, farm implement dealership, flower shop and Laundromat. He was a real businessman! Marvin enjoyed being a part of many groups and events in Kindersley. In 1981 Marvin and Pearl moved to Swift Current, Saskatchewan where they bought their third hotel, the Imperial Hotel or as the locals there called it "The Big I". It was a very active country based hotel in Swift Current and it was THE place to go. Marvin promoted many, many local artists and brought to town many well known famous artists from Canada and the states. Marvin also promoted everyone on the radio on "The Art Wallman show".
In 2000, Marvin and Pearl moved to Saskatoon and soon after retired to Vanscoy, Saskatchewan. Marvin was very active in the Saskatchewan Seniors Association. If he wasn't organizing corn roasts and outings, card tournaments and get togethers he was going to Senior provincial conventions to rally for Seniors all across Saskatchewan. Marvin was also a LOYAL Roughrider fan, through all the good and bad years he was a TRUE FAN!
In 2012 Marvin's wife of 54 years Pearl passed away. This led him to become really involved with the Saskatchewan Seniors Association where he met his new life partner, Lylie Herman. The relationship blossomed and led them to move to Lylies home town of Nokomis, Saskatchewan. Marvin remained very involved with the local seniors club and also became active in the local Legion. Marvin was an organizer, loved playing cards, dancing, singing and can't forget playing the spoons!
He dearly loved getting together with family and friends. He never forgot his friends. Once a friend always a friend! Marvin loved all of his family, but his grandchildren and great grandchildren were his greatest joy in life. He was always interested in what they were doing whether they were near or far. Marvin is lovingly remembered by his partner, Lylie Herman and her family, His daughter, Merna (Randy) Boychuk, his daughter, Gwen (Stan) Sieber, his son, Gerald. Grandsons and Granddaughters, Russell Boychuk (Hollie Champion), Lindsay (Russel) Carey, Alicia Cuthbertson, Tina Braybrook, Dale (Nicole) Braybrook. Great grandchildren Ainsley and Tavis Carey, Ava Cuthbertson and Parker Tinnion. Brothers Merle Gilbertson and Lorne (Cathy) Gilbertson. In-laws, Joyce Weber, Barry Dolan, Leona and George Teed, Verna Bentley, Hubert Weber and Gordon and Viola Weber. Many loving cousins and a dear Aunt Dorothy Gilbertson and Uncle Henry Gilbertson and many nieces and nephews Marvin is predeceased by: Pearl Gilbertson, wife, Isabel Gilbertson, mother, Arnold Gilbertson, father Sisters in law, Donna Gilbertson and Isabell Gilbertson John Weber, father-in law and Wilma Weber, mother in law. Brothers in law, Edward (Ted) Weber, Jack Bentley and Ed Borix. Sisters in law, Ruby Borix and Dorothy Dolan.
Marvin passed away from complications from cancer. Any donations in Marvin's name can be made to Saskatchewan STARS or The Nokomis Legion Branch #290 for the Poppy fund. Memorial service and internment will be held at a later date.
Cremation arrangements are in the care of Fotheringham McDougall Funeral Service, Watrous, Saskatchewan.