Are you having difficulties getting out of your home?
Are you missing activities due to COVID restrictions?
Would you like to stay socially connected?
Would you like to participate in creative activities?
Then the Studio Without Walls is for you!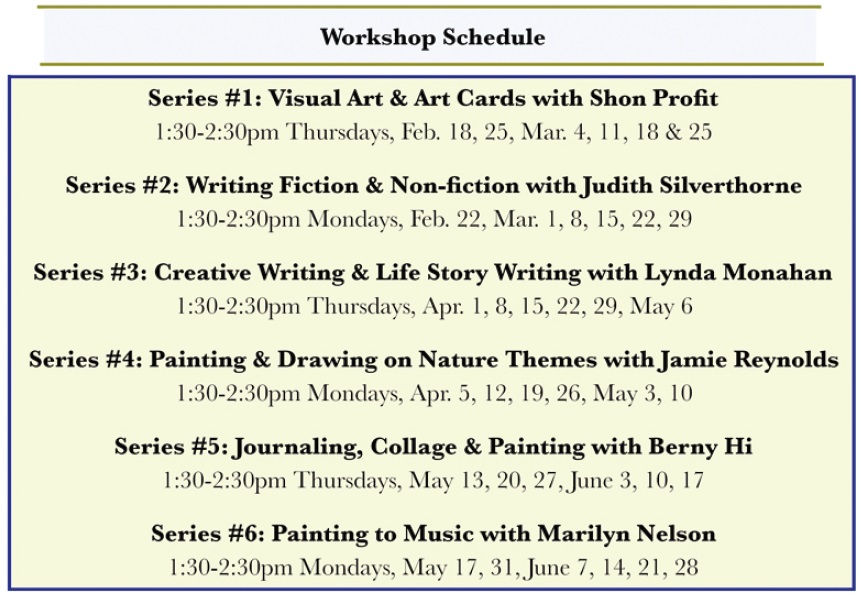 Studio Without Walls
a FREE interactive telephone-based program that connects
adults 55+ in creative activities
available to anyone 55+ living in Saskatchewan
supplies are provided by mail at no cost to participants
---
6 creative workshop sessions over 6 weeks
---
choose from activities including creative writing, painting,
drawing, collage, life-story writing
---
These sessions are part of a research project at the University of Regina.
You will be asked to participate in 3 confidential interviews (approximately 30 minutes
each) with a student researcher, who will ask about your experience with the program and
social connection. Participation is voluntary.
You can withdraw from the project at any time, up until the 6 sessions have ended.
This project has received ethical approval from the University of Regina.
---
For more information and to register call:
306.527.4379
Dr. Amber Fletcher / Dr. Barbara Meneley
StudioWithoutWallsSaskatchewan@gmail.com
PO Box 33125 Cathedral PO Regina SK S4T 7X2
---

---
Frequently Asked Questions
---
Does it cost anything to participate in Studio Without Walls?
No. It's completely free!
Who can participate?
Anyone 55+ living in Saskatchewan
Do I have to talk?
You do not have to talk. But all participants will be introduced by first names at
the beginning of a session so that people know who is in the call.
Will the other participants know who I am?
No. You will be a voice and a name on the phone. Nobody will know what you
look like, where you live or even your phone number.
What if I want to chat more with another participant?
That's great! But to protect everyone's privacy, please contact Studio Without
Walls organizers to help to mediate your request with the other participant(s).
How long are the sessions?
Each phone session lasts between 45-60 minutes.
How does it work?
Programs are multi-person phone conversations, conference calls.
How many others will participate in the session?
Depending on the workshop, up to 10 or 15 people.
Do I need any special equipment?
No! Just a regular telephone to join in group phone calls from your own home.
We will provide any needed workshop supplies by mail at no charge.
How can I join?
Give us a call at 306-527-4379 to register.
I am interested, but not in creative activities.
No problem! Give us a call at 306-527-4379 and we will connect you with our
program partners Seniors' Centre Without Walls, or contact them directly at
306-631-4357.
I have been a member of this group for over two months. The program has been an excellent support for me. My husband and I are both senior citizens, who reside on a farm . Covid has meant that we have to follow social distancing rules, as we are at risk for contacting the virus. Many of the social functions which would allow us to connect with other people in similar circumstances are cancelled. Even basic functions such as purchasing groceries are limited as very few people are allowed in the small store in our rural community.
I have found the sessions in scww to be mentally stimulating as we share knowledge and the presenters give us new information or cause us to think in new ways. It is also reaffirming to hear the ideas and experiences of other seniors. The people in charge of scww  have excellent administrative skills and make each of us feel worthy and valuable to the group. This feeling of confidence is an important component in getting people to conform to the public health recommendations and thus reducing the danger of covid.
I feel that the program has given the seniors skills, information and social and emotional support during these difficult times. Despite the stress of increasing risk for health concerns, it has enabled the group to avoid many of the concerns for social, emotional and mental health ,which are causing other citizens to have problems in these areas. I would strongly recommend that this program be continued as a positive preventive approach .
I have been participating with this group since early November 2020 when I first heard of it.
I am so glad I did. We have phone calls that help all of us. Some members have spoken of the depression they were dealing with being cooped in because of cov19. Others are in care homes so they can't go out but it's been even worse for them having to stay in their rooms to eat and not being able to even socialize with the others in the care home. Of course no visitors are allowed.
Myself personally I am 63 turning 64 on April 1st. I am unable to visit my closet daughter in Regina because of cov19 strict rules. We, my husband and myself, missed celebrating Christmas together with her family and I don't get to see her in person either. Very hard as she just experienced a miscarriage before Christmas her first pregnancy. My other closet daughter lives in Nainamo. I lost my firstborn twin daughter in April 2016 the day after her 36th birthday.
What does this all mean? I have found SCWW a true lifesaver visiting with all the other seniors some in their 90's. We have art which I am loving, authors and writing sessions, guest speakers teaching us so much.
We used to have two classes per weekday one in the morning and the other in the afternoon But because of lack of funding in February there are no classes on Mondays, and only one class per day on several other days of the month. Same happened in January and possibly March too. We need more funding to get back our two classes per weekday. This group helps so many people in so many ways.
Myself I am now doing yoga which I have never done before, playing my piano again because of listening to a man who can play reminds me I can play a lot more, doing art which I haven't done since high school and I am loving all of it. I am speaking for myself and hopefully everyone who participates in SCWW also feels the same improvements in their lives too. From the sound of our phone calls I would guess this to be true.